Teach Yourself Web Publishing with HTML 3.2
In Fourteen Days
by Laura Lemay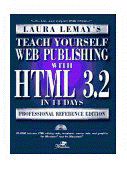 Those writing books on how to create and put up your own web pages often produce volumes big enough and heavy enough to kill with, and I'm not talking third generation web design here. These tomes are what I call barge books, and indeed, Laura Lemay's Teach Yourself Web Publishing is one of these. However, of all the barges out there, this one does its job well, so I've forgiven her for writing an 800-page anchor.
The currently available book covers HTML 3.2, which came out very shortly after I had purchased my HTML 2.0 Premier Edition. And I've never been able to see any great distinction between the "Premier" editions and the "Professional" editions, although you can probably read the Amazon.com reveiws and comments and decide which version you prefer. As for me, I've never been one to constantly hop on the latest and greatest. Just give me a well-tested, more or less bugless computer-related thing and leave me alone. This is not the first HTML book I've bought and it certainly won't be the last, but it was the first of the barge genre I purchased, largely because these weighty things cost $40 and up.
Having gotten disgusted with WYSIWYG page editors which wouldn't let me do what I wanted to do and mucked around with HTML coding to try to see if I could get my web pages the way I wanted them, I finally decided I really needed to try to fathom the difference between a relative anchor and just any old HREF. I spent a good bit of time agonizing over the aisles and aisles of monster computer books at my local book emporium trying to decide where to spend my life's savings.
I wasn't insecure enough to find the dummy series attractive, but the only other option seemed to be the instant expert mode. Since Laura Lemay makes many helpful comments and suggestions to the Studio B list, I singled out her book for closer inspection. O.K. O.K. I also decided to go with a woman author for politically incorrect reasons.
I found Laura Lemay's introductory material easy to read and understand, and I especially liked her showing what the sample web pages looked like in Lynx as well as Netscape since I am a great proponent of simple page design. I say introduction because I read as far as needed to understand what I wanted to do and promptly dropped out, along about day five. When I decide that I want to add animation and sound to my web pages, I know where to go.
The CD in the back of the book hasn't been out of the plastic envelope, but it does help tremendously in keeping the back cover rigid enough that it doesn't rip off when I drop the book, something that happens often because the thing is so unwieldy. But this is a barge genre complaint, not a criticism of Laura Lemay's explication of the mysteries of creating web pages.
Actually, I find this book a very nice compliment to the HTML for Dummies Quick Reference by the Rays. A place to find out the why and wherefore of how the web works to supplement the streamlined list of tags of the Rays.
And no, I'm still fuzzy about absolute and relative anchors, probably because I loathe -- and I do mean despise -- those nasty little links that lurk on the page, masquerading as the real thing, the jump to another page with valuable information on it instead of an eye-dizzying spin to some other spot on the same too-long page. When I click on a link, I want the real thing!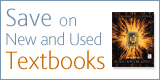 <
---
---
Books Reviews About Brain-Mind Connection
Back to Whiskey Creek Document Design's Home Page
---
---
© Copyright 1996-2003 Whiskey Creek Document Design. All rights reserved