Whiskey Creek Stamps
Juno with Peacock
Fran Saperstein of Elegant Notion created this lovely acetate version of Juno with her Peacock.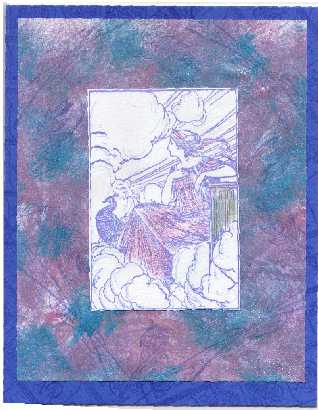 General directions for Juno with Peacock
Materials:
purple card stock
purple ink
coated text weight paper
PH Martin's Iridescent Calligraphy Inks
sponge dauber
colored pencils
Stamps (all from Whiskey Creek's Plate 5):
Juno with Peacock
Geography Game
Backgrounders
Prepare iridescent background by using iridescent ink with sponge dauber to create a marbled effect on text weight coated paper. Set aside to dry.
Cut purple card stock to desired card size.
Stamp Geography game with purple ink. For best impression, use Whiskey Creek's instructions on how to ink stamp with a brayer. Background is now complete.
Take another sheet of coated text weight paper and stamp Juno with Peacock in purple.
Set aside to dry.
Take iridescent background and stamp backgrounders in purple ink randomly to give a faint image and dimension.
Color Juno with Peacock lightly with pencils.
Attach all three pieces with desired glue/adhesive.
---
---
About Whiskey Creek Stamps (Home Page)
---
---
© Copyright 1996, 1997, 1998, 1999, 2000 Whiskey Creek Document Design. All rights reserved. No portion of this site, including all the text and images on this home page and any of the separate pages, may be copied, retransmitted, reposted, duplicated or otherwise used without the express written permission of Whiskey Creek Document Design.