Whiskey Creek Stamps
Postcards by Sarah Fishburn-Gerety
Sarah has created some absolutely gorgeous postcards from Whiskey Creek's acetate images, stamps, and the gameboard of our Alphabet Solitaire. When I asked her permission to put her cards in my gallery, I also asked her for a bit of description about how her muse got her where she went.
Ophelia printed on acetate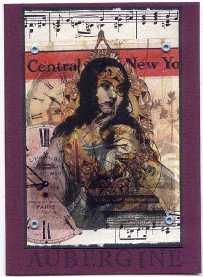 With Ophelia, I thought it would look good to make transparent windows and decided to use grommets (as opposed to adhesive) for added color and texture. The Juliet transparpency is layered over a collage I did with among other things, Whiskey Creek's water pitcher image, which was layered over an artist book page I had already done.
Farmgirl stamp on matte card stock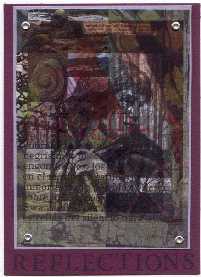 With the Farm Girl, while I do agree with you that those images show up most clearly on glossy stock, and I did take your suggestion to use the brayer, I wanted to experiment, so stamped onto a sort of naturey photo montage on a matte text weight paper. Although it's dark, still it gave the effect I wanted.
Segment of the Alphabet Solitaire gameboard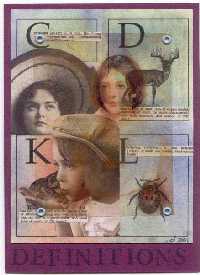 With the Alphabet Solitaire, I just wanted to do the "kiss" thing for Valentine's Day. the background color is chalk, and actually, it's my favorite.
---
---
About Whiskey Creek Stamps (Home Page)
---
---
© Copyright 1996, 1997, 1998, 1999, 2000, 2001 Whiskey Creek Document Design. All rights reserved. No portion of this site, including all the text and images on this home page and any of the separate pages, may be copied, retransmitted, reposted, duplicated or otherwise used without the express written permission of Whiskey Creek Document Design.