Whiskey Creek Stamps
Vintage Post Card Collage
I took a class on using cold laminate to make collages and immediately saw all kinds of uses for a lot of the old stuff I just haven't been able to bring myself to give to the local historical society.
Of course, in the class we put together our collages from glossy pictures out of magazines and travel brochures, but I loved the idea of sticking a picture face down on the sticky surface of the laminate and soaking it in water to peel off the paper, leaving the color image firmly attached to the stickum.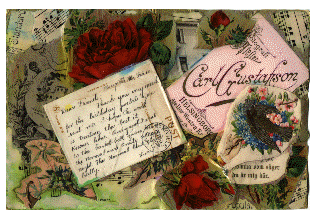 So I took some old postcards, old pictures, and old sheet music and arranged it all on a 5 1/2 inch by 8 1/2 inch section of laminate.
Well, some of these papers were thicker than others so the thin papers soaked off quite quickly while the thick postcard papers just got fatter and fatter as they slurped up water. I finally had to sort of scrap off the background paper of the post cards, but I wound up getting most of the wet, soggy paper off without also removing the colored images. The postcard elements were still thicker than the sheet music, which I figured would make for a lumpy background, but I wasn't going to be able to do anything about that.
After soaking the collage in cold water and peeling off as much paper as I could, I squeezed out enough Perfect Paper Adhesive to be able to swirl it all over the paper back with my finger.
Next I dribbled a small amount of dye ink pad reinker here and there on the paper back. I used three colors, (yellow, red, and green) and only a couple of drops of each. I was told in class to stick with the light colors so for once in my life I followed directions. Mostly because I had watched others in the class I took get too much dark dye on their collages and who had wound up with mud.
After swirling the dye around and marbelizing it on the paper back of the collage, I crumpled up a piece of gold tissue paper a bit bigger than the size of the laminate and pressed that into the paste and dye gumbo and let it dry.
It was only about a week before the laminate around the edges of the thickest papers started to lift a little, leaving a space outline around some of the elements. But let me tell you, I'm hooked!
---
---
About Whiskey Creek Stamps (Home Page)
---
---
© Copyright 1996, 1997, 1998, 1999, 2000 Whiskey Creek Document Design. All rights reserved. No portion of this site, including all the text and images on this home page and any of the separate pages, may be copied, retransmitted, reposted, duplicated or otherwise used without the express written permission of Whiskey Creek Document Design.