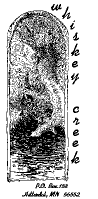 Alphabet Solitaire Gallery
I developed the game Alphabet Solitaire for my own children when they were little. Over the years I have tried producing them in fabric form and I have long dreamed of printing the games. Yes, my children are grown and gone now, so this game has been a long time a-borning, as they say.
When I started creating rubber stamps from vintage etchings, I knew I had finallly found the right combination -- a good game and something new and different for rubber stampers to try their hand at!
Never in my wildest dreams did I imagine the wonderful, magical look these talented artists have given Alphabet Solitaire!

Sandy Kavanagh

---
---
About Whiskey Creek Stamps (Home Page)
---
---
© Copyright 1996, 1997, 1998, 1999, 2000. Whiskey Creek Document Design. All rights reserved. No portion of this site, including all the text and images on this home page and any of the separate pages, may be copied, retransmitted, reposted, duplicated or otherwise used without the express written permission of Whiskey Creek Document Design .