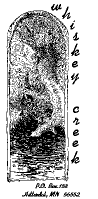 Whiskey Creek Stamps
Collage Gallery
Since I have only been stamping for a couple of years, I do not have all kinds of tricks and nifty techniques squirreled up my sleeve to make my work stand out from the crowd. I have carefully collected the watercolor pencils, the Pearl Ex, the Fabrico markers, the Radiant Pearls, the Gildenglitz, the fancy-edge scissors, but let's face it. I haven't used these long enough to be very good at this stamping thing.
With the Whiskey Creek stamps I create, the detail is fine enough that you can really get away without having to do too much too them. In fact, I really don't care much for them gussied up in the latest fashion. Even clear embossing tends to blur the lines I worked so hard to keep in the rubber.
When I started working on that standard little quarter-of-a-sheet surface of cardstock, I really got frustrated. Seemed like there was so little I could do with that small space and my stamps. O.K. O.K. That's my lack of experience showing, but that was where I was at at the time.
So I started working on half-sheets of card stock. But then before long I was putting two different half sheets together to create an even bigger surface to work on.
And the rest is....not history...but collage.
I discovered that with gorgeous papers and lots of layering you can avoid having to be an expert at applying paint and glitz. Unfortunately, web color doesn't do a lot for the papers used, but I'm putting these collages up here in part as inspiration to others like myself who are beginning stampers and can't hope to produce the exquisite cards and collages we see in the magazines. Some day, but we're not there yet, so what do we do in the meantime.
For people new to stamping, I think simple collages offer a good way to break into this medium without having to have an art degree before you purchase your first stamp.
In my acetate gallery I also have three collages created from three different images of Shakespeare's women.

Ten-Item Playing Card Swap


Flowering Dogwood


Vintage Postcard Collage

Shire Stallion Canute



Pottabaker Tulips

---
---
About Whiskey Creek Stamps (Home Page)
---
---
© Copyright 1996, 1997, 1998, 1999, 2000. Whiskey Creek Document Design. All rights reserved. No portion of this site, including all the text and images on this home page and any of the separate pages, may be copied, retransmitted, reposted, duplicated or otherwise used without the express written permission of Whiskey Creek Document Design .