Whiskey Creek Stamps
Flowering Dogwood Collage
Fran Saperstein of Elegant Notion creates handmade greeting cards and invitations for her clients and has shared her collage work here with one of our stamps.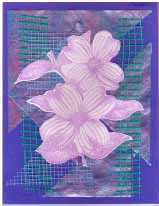 Materials:
half sheet of purple cardstock for background
coated text-weight paper
purple ink
Dr. Ph Martins Iridescent Calligraphy Inks
Stamp Used:
Directions:
Ink up stamp as directed by Whiskey Creek, using brayer and dye based purple ink.
Prepare iridescent background by using iridescent ink with sponge dauber to create a marbled effect on text weight coated paper.
Set aside to dry.
Cut purple card stock to desired size.
Cut iridescent background into different sized triangles or any shape desired.
Cut Magic Mesh in varying shapes and sizes in complementary colors.
Attach design in desired method.
---
---
About Whiskey Creek Stamps (Home Page)
---
---
© Copyright 1996, 1997, 1998, 1999, 2000 Whiskey Creek Document Design. All rights reserved. No portion of this site, including all the text and images on this home page and any of the separate pages, may be copied, retransmitted, reposted, duplicated or otherwise used without the express written permission of Whiskey Creek Document Design.