Whiskey Creek Stamps
Shire Stallion Canute Collage
Canute is obviously well curried, braided, and posed for the etching I created this stamp from. So I couldn't help but sneak in a little knotty pine cardstock with this image. A little rawhide. A ladybug embellishment down by the "Earth laughs in flowers," an Emerson saying by Annette Allen Watkins stamp that can't really be read in the scan.
When I told my son, a stained glass artist, about the copper embossing sheets sold in stamp stores, he took me to a stained glass supply shop and showed me the copper trim available to glass artisans ($7.95 for a 25-foot roll). The wavy copper edging around the upper dark piece of cardstock is this copper tape, very thin and pliable, which comes with adhesive backing on it. Peel and stick. I did not make any attempt to burnish the ripples out of the copper because I liked the look with the horse and stable theme, but it could certainly be done.
The neutral rick-rack edging around the knotty pine cardstock on the bottom is the backing from the copper tape. I should have mitered the edges, but I just can't stand to throw good stuff away!
The leafy paper layer was cut from one of the decorative paper bags my local stamp store uses for purchases. I have used a copper leafing pen to highlight the ribs in the green leaf.
The "Have a Wonderful Day" stamp is by Darcie's.
From our Whiskey Creek Plate #2, information about this stallion stamp is in our online catalag.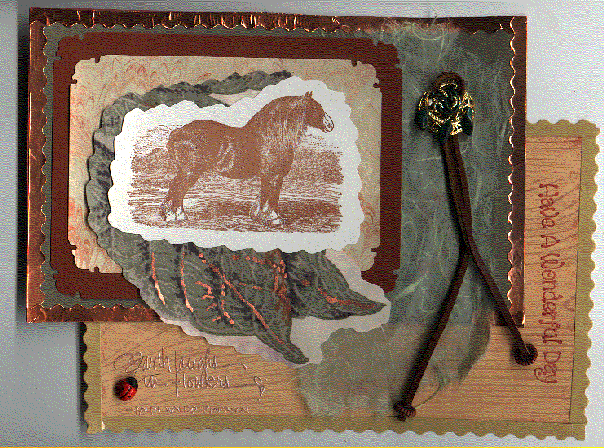 ---
---
About Whiskey Creek Stamps (Home Page)
---
---
© Copyright 1996, 1997, 1998, 1999, 2000 Whiskey Creek Document Design. All rights reserved. No portion of this site, including all the text and images on this home page and any of the separate pages, may be copied, retransmitted, reposted, duplicated or otherwise used without the express written permission of Whiskey Creek Document Design.