Whiskey Creek Stamps
Pottabaker Tulips
This tulip stamp, like the Whiskey Creek Papa Gontier Rose, is very easy to use and it is possible to get a good image almost every time it is used.
I am not a pink person, but pink seemed to be what the stamp called for while I was working, so I layered it over pink mulberry paper, and then over this wonderful marbled paper I saw for the first time at Sara's Expressions at the Minneapolis stamp show in May of 1999. This marbled paper is absolutely gorgeous stuff and the web page doesn't do it justice.
I used a Versamark pad for the "Mozel Tov!" stamp by Stampendous. I wasn't sure how it would show up on the light pink paper. Actually it shows up better on the web picture than in real life.
I wanted to do something to the silver mylar heart, but couldn't get stamp ink to stick to it, even permanent ink. I have to tell you I thought about embossing one of the mylar hearts just to see what would happen. Well, I can't say I really embossed it because just the thought of getting it near the heat gun wrinkled it. I finally painted glue on the heart and applied Gildenglitz to it.
The pearlescent silver stringy things I bought because I see so much of this stuff in collage packages. Figured it must really be useful stuff. Hmmm. It is miserable stuff to work with, full of static electricity which even glue can't seem to control. I may donate this to the birds for nest building this spring.
"May your day be bright with surprise & delight..." is Stampa Rosa.
From our Whiskey Creek Plate #2, information about this tulip stamp is in our online catalag.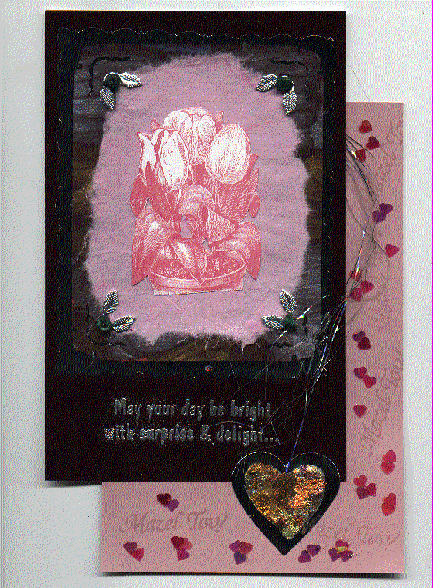 ---
---
About Whiskey Creek Stamps (Home Page)
---
---
© Copyright 1996, 1997, 1998, 1999, 2000 Whiskey Creek Document Design. All rights reserved. No portion of this site, including all the text and images on this home page and any of the separate pages, may be copied, retransmitted, reposted, duplicated or otherwise used without the express written permission of Whiskey Creek Document Design.