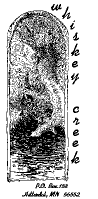 Broom
category: furnishings
catalog number: 1-1-9-C
series number 1
size: 1.25 inches by 3 inches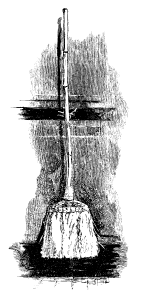 About this Image:
So far as possible, all the rooms in this ideal house of ours front the sun, or are visited by the sun for an hour or two every day. I hold this almost essential to a bedroom,-that it should have, not merely light and air, but the direct rays of the sun, and that there should be no furniture nor hangings in the room that are likely to be injured by the sun.
From a book by Clarence Cook titled The House Beautiful, ca. 1890.
price: $6.00
Comments
Medium difficulty. The darkness of the tile floor can make stamping difficult, but the broom still has a lot of character.
Whiskey Creek
stamping@wcdd.com
---
---
Frequently Asked Questions (FAQ)
About Whiskey Creek Stamps (Home Page)
---
---
© Copyright 1996, 1997, 1998, 1999, 2000. Whiskey Creek Document Design. All rights reserved. No portion of this site, including all the text and images on this home page and any of the separate pages, may be copied, retransmitted, reposted, duplicated or otherwise used without the express written permission of Whiskey Creek Document Design .