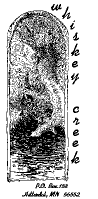 Sleeping Cat with Mouse
category: animals
catalog number: 1-1-4-F
series number 1
size: 3.25 inches by 3.75 inches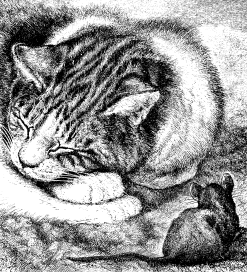 About this Image:
Snowball understood her business, but she had grown so used to it that perhaps she was a little careless. She said to me, "It may be hours before that mouse comes out, but he will come out -- he has no hole in the pantry -- and I shall be obliged to stay here till he does"....She curled herself up close by the doorway and was fast asleep in a minute.
From a children's book titled Under the Dog-Star, ca. 1900.
price: $12.00
Comments
Medium difficulty. A larger stamp with lots of surface to cover evenly with ink.
Whiskey Creek
stamping@wcdd.com
---
---
Frequently Asked Questions (FAQ)
About Whiskey Creek Stamps (Home Page)
---
---
© Copyright 1996, 1997, 1998, 1999, 2000. Whiskey Creek Document Design. All rights reserved. No portion of this site, including all the text and images on this home page and any of the separate pages, may be copied, retransmitted, reposted, duplicated or otherwise used without the express written permission of Whiskey Creek Document Design .