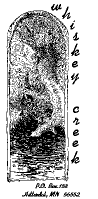 Writing Table
category: furnishings
catalog number: 1-1-8-C
series number 1
size: 2.25 inches by 2.25 inches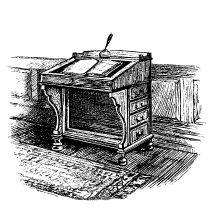 About this Image:
This [writing-table] is of much simpler make, and, beside, does not offer to make itself so useful. The writing-shelf either lifts up, or, if preferred, the space beneath it is got at by a drawer. Then the back of the case is made useful by several small drawers. These can either run through, from side to side, or they can be made only half the width of the case, and the space opposite them can be left free for a tall book or two.
From a book by Clarence Cook titled The House Beautiful/, ca. 1880.
price: $6.00
Comments
Easy. Even in the dark areas of the image the lines remain crisp.
Whiskey Creek
stamping@wcdd.com
---
---
Frequently Asked Questions (FAQ)
About Whiskey Creek Stamps (Home Page)
---
---
© Copyright 1996, 1997, 1998, 1999, 2000. Whiskey Creek Document Design. All rights reserved. No portion of this site, including all the text and images on this home page and any of the separate pages, may be copied, retransmitted, reposted, duplicated or otherwise used without the express written permission of Whiskey Creek Document Design .