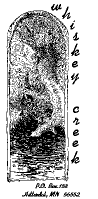 Farmgirl
category: women
catalog number: 1-1-5-F
series number 1
size: 2.55 inches by 4 inches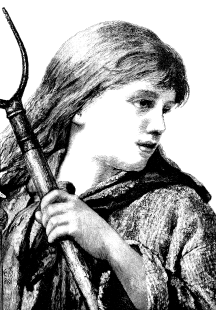 About this Image:
A frontice piece for a story "Jack of All Trades" by the Reverend T.S. Millington.
The caption under the picture says:
Out in the hayfield-while the cloudless sky
In sunshine smiles, the peasants' toil to aid.
by B. Gough
From a children's book series titled Home Words for Heart and Hearth, ca. 1885.
price: $12.00
Comments
Difficult. The original image was not composed of lines, but looked more of a pencil sketch, so there isn't the clear line delineation for detail found in line art. The appeal of the image makes the extra effort to work with it very rewarding.
Surprisingly, a prismed glossy paper works very well with this image.
Whiskey Creek
stamping@wcdd.com
---
---
Frequently Asked Questions (FAQ)
About Whiskey Creek Stamps (Home Page)
---
---
© Copyright 1996, 1997, 1998, 1999, 2000. Whiskey Creek Document Design. All rights reserved. No portion of this site, including all the text and images on this home page and any of the separate pages, may be copied, retransmitted, reposted, duplicated or otherwise used without the express written permission of Whiskey Creek Document Design .