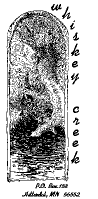 Fruits of Summer
category: gardens
catalog number: 1-1-3-E
series number 1
size: 3.5 inches by 4 inches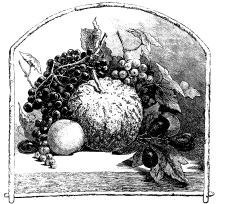 About this Image:
We have the melon represented in our picture, a fruit which much delighted the Crusaders who went out to battle with the Saracens, for it was not then grown in the West. The chief gardener to Henry VIII is said to have planted the first bed of melons in England.

Quantities of the kind called the `musk melon' were grown on the moist ground about Lambeth during the seventeenth century, and carried to the city in boats. Another kind, named the cantaleupe, after a castle in Italy, was much admired for its flavour....
From a children's book titled The Chatterbox , 1899.
price: $10.00
Comments
Medium. Really an easy stamp to use, but the darkness of the fruit in spots can make the coloring of the image a challenge.
Whiskey Creek
stamping@wcdd.com
---
---
Frequently Asked Questions (FAQ)
About Whiskey Creek Stamps (Home Page)
---
---
© Copyright 1996, 1997, 1998, 1999, 2000. Whiskey Creek Document Design. All rights reserved. No portion of this site, including all the text and images on this home page and any of the separate pages, may be copied, retransmitted, reposted, duplicated or otherwise used without the express written permission of Whiskey Creek Document Design .