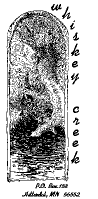 Pitcher
category: furnishings
catalog number: 1-1-6-C
series number 1
size: 1.5 inches by 2.5 inches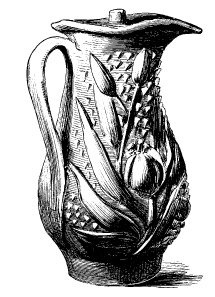 About this Image:
I recommended this particular pitcher the other day to a lady who wanted a water-holder to go with one of the painted and lacquered wooden bowls.... I wonder some traveler with time and money (not much of the latter is needed), and wanting employment, does not go about Europe and collect a shipload of the jolly water-vessels that are made by the hundred thousand in all the Mediterranean lands, and which we know would have a great popularity here, because every scrap that was sent to Philadelphia was caught up before the distracted owners had learned to translate marabedis into dollars.
From a book by Clarence Cook, The House Beautiful, ca. 1880.
price: $6.00
Comments
Very easy. Works well on some cardstocks as well as glossy papers.
Whiskey Creek
stamping@wcdd.com
---
---
Frequently Asked Questions (FAQ)
About Whiskey Creek Stamps (Home Page)
---
---
© Copyright 1996, 1997, 1998, 1999, 2000. Whiskey Creek Document Design. All rights reserved. No portion of this site, including all the text and images on this home page and any of the separate pages, may be copied, retransmitted, reposted, duplicated or otherwise used without the express written permission of Whiskey Creek Document Design .