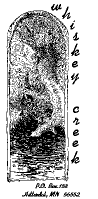 Ram
category: animals
catalog number: 1-1-7-D
series number 1
size: 2.5 inches by 3 inches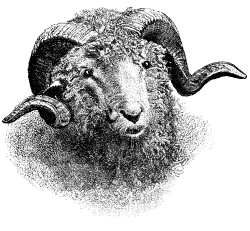 About this Image:
[No two] were more inseparable than were Jock and Don Quixote, the big Merino ram whose horns swept back from his black nose, giving his kingly head the aspect of Gibraltar. By day-break the ram, the ewes, and their keeper were upon the sunny slopes; before dark, for fear of wolves, the same companions were together in the sheep-fold of wattled stakes, Jock sleeping in a long shed opening into the fold, his two shepherd collies, Laddie and Scotty, at his feet.
From a children's series titled St. Nicholas, ca. 1885.
price: $8.00
Comments
Medium difficulty. The similarity of Don Quixote's wool coat with the background can require some careful planning.
Whiskey Creek
stamping@wcdd.com
---
---
Frequently Asked Questions (FAQ)
About Whiskey Creek Stamps (Home Page)
---
---
© Copyright 1996, 1997, 1998, 1999, 2000. Whiskey Creek Document Design. All rights reserved. No portion of this site, including all the text and images on this home page and any of the separate pages, may be copied, retransmitted, reposted, duplicated or otherwise used without the express written permission of Whiskey Creek Document Design .