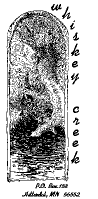 Papa Gontier Rose
category: botanicals
catalog number: 1-1-2-F
series number 1
size: 2.5 inches by 3.75 inches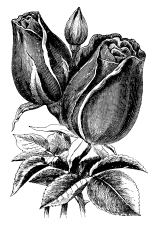 About this Image:
This fine rose, while not strictly new, having been sent out five years ago, has created some attention from its having been grown in considerable quantities by a celebrated New York rose grower, for the cut-flower market of New York....In color it is of the Bennett class, or deep crimson, resembling in foliage the Duchess of Edinburg, from which it originated.
From The Prairie Farmer, 1887.
price: $12.00
Comments
Easy. This stamp looks difficult because it is composed of so many lines, but it is very, very easy to use and consistently get a good image.
Whiskey Creek
stamping@wcdd.com
---
---
Frequently Asked Questions (FAQ)
About Whiskey Creek Stamps (Home Page)
---
---
© Copyright 1996, 1997, 1998, 1999, 2000. Whiskey Creek Document Design. All rights reserved. No portion of this site, including all the text and images on this home page and any of the separate pages, may be copied, retransmitted, reposted, duplicated or otherwise used without the express written permission of Whiskey Creek Document Design .