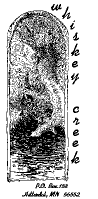 Hermit Crab
in Whelk Shell
category: animals
catalog number: 2-2-4-C
series number 2
size: 1.75 inches by 2.25 inches
About this Image:
Certain fish have eyes on the top of the head which can be raised or lowered at will. The eyes of crabs and lobsters are fixed on the end of long stalks like lamps on the top of lamp-posts. Some of the crab tribe have additional eyes on their bodies and on their legs.
From Home Words for Heart and Hearth, 1885.
price: $10.00
---
---
Frequently Asked Questions (FAQ)
About Whiskey Creek Stamps (Home Page)
---
---
© Copyright 1996, 1997, 1998, 1999, 2000. Whiskey Creek Document Design. All rights reserved. No portion of this site, including all the text and images on this home page and any of the separate pages, may be copied, retransmitted, reposted, duplicated or otherwise used without the express written permission of Whiskey Creek Document Design .