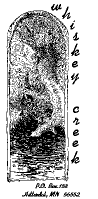 The Thimble Shoals
Hampton Roads, Virginia
category: landmarks
catalog number: 2-2-3-D
series number 2
size: 3 inches by 2.75 inches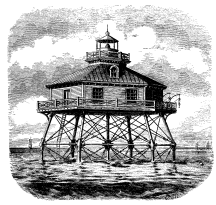 About this Image:
In 1789, a French scientist, M. Lenois, made an epoch in the history of Light-houses, and in the progress of civilization as well, when he introduced an improvement in the way of lighting....The wonderful lens...belongs to a diaptric refracting light of the first order, and oil lamps constructed on the Fresnel principle, and placed within lenses of different orders, according to the Light-house they are used for, serve an admirable purpose. Lard oil is found to be the best illuminator....
From an article by Mary Lockwood in Wide Awake: Pleasure Book, 1878.
price: $12.00
---
---
Frequently Asked Questions (FAQ)
About Whiskey Creek Stamps (Home Page)
---
---
© Copyright 1996, 1997, 1998, 1999, 2000. Whiskey Creek Document Design. All rights reserved. No portion of this site, including all the text and images on this home page and any of the separate pages, may be copied, retransmitted, reposted, duplicated or otherwise used without the express written permission of Whiskey Creek Document Design .