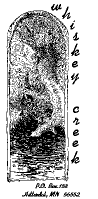 Pie Crust Table
category: furnishings
catalog number: 2-2-7-D
series number 2
size: 2.5 inches by 3 inches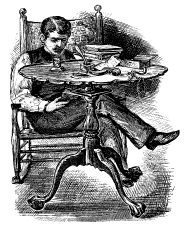 About this Image:
They are found of many sizes, from simple lamp-stands to such as are large enough to accommodate, rather snugly to be sure! four people united over a friendly dish of tea. The tops are almost all made to turn up, being hinged on the central support, and they often revolve, the piece to which they are hinged being in that case a separate block or light frame through which the top of the central pole passes, and on which it turns. Then, again, the edge of the circular or oval leaf is treated in a variety of ways, sometimes left quite plain, but, in all the better sorts, molded, and sometimes, as here, dentele --to use the French term,-- in homely English, scolloped.
From a book by Clarence Cook titled The House Beautiful, ca. 1890.
price: $12.00
---
---
Frequently Asked Questions (FAQ)
About Whiskey Creek Stamps (Home Page)
---
---
© Copyright 1996, 1997, 1998, 1999, 2000. Whiskey Creek Document Design. All rights reserved. No portion of this site, including all the text and images on this home page and any of the separate pages, may be copied, retransmitted, reposted, duplicated or otherwise used without the express written permission of Whiskey Creek Document Design .