Whiskey Creek's
Shire Stallion Canute
category: animals
catalog number: 2-2-8-D
series number 2
size: 3.75 inches by 2.75 inches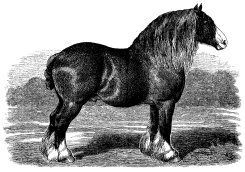 About this Image:
Canute won first prize at the Cambridgeshire Show in 1883...and has since been standing at Dunsmore. He has proved himself a most successful sire, his stock having won thirty first and second prizes during the past year at the London and other Shire-horse and agricultural shows. He is a dark liver-colored chestnut, and stands over seventeen hands high, on short legs, measuring only 2 ft. 4 in. from his chest to the ground. He has immense substance and bone, beautiful hair, and is an excellent mover.
From She Prairie Farmer, 9 April 1887.
price: $12.00
Comments
One of our visitors to our online gallery (which we no longer have up) e-mailed us that she thought this stallion would make a good stamp -- and we agreed.

We really do value your suggestions for stamps and hope to expand the gallery to give our visitors more images to mull over and recommend for stamps!
---
---
Frequently Asked Questions (FAQ)

About Whiskey Creek Stamps (Home Page)
---
---
© Copyright 1996, 1997, 1998, 1999, 2000. Whiskey Creek Document Design. All rights reserved. No portion of this site, including all the text and images on this home page and any of the separate pages, may be copied, retransmitted, reposted, duplicated or otherwise used without the express written permission of Whiskey Creek Document Design .