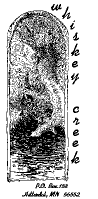 Pottebakker Tulip
category: botanicals
catalog number: 2-2-6-D
series number 2
size: 2.5 inches by 3.5 inches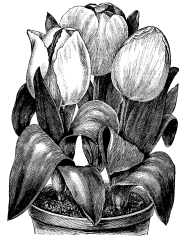 About this Image:
In common with other flowers which have a vast number of varieties, the Tulip has only a few kinds fitted to be grown in quantities by the florist for cut flowers, or for bedding purposes in the spring. Those who grow tulips for the cut-flower market require in the first place that the flowers have a distinct and decided color; that the plants act well under artificial culture, and that the bulbs can be obtained in sufficient quantities to pay to grow them, as it is very difficult to dispose of a few of any one kind, while a large quantity makes its own market....The White Pottebakker is a great favorite with the cut-flower men, as it is large in size, its color is decided, and the substance good, so that the flower will bear travel or handling.
From The Prairie Farmer, 15 October 1887.
price: $12.00
---
---
Frequently Asked Questions (FAQ)
About Whiskey Creek Stamps (Home Page)
---
---
© Copyright 1996, 1997, 1998, 1999, 2000. Whiskey Creek Document Design. All rights reserved. No portion of this site, including all the text and images on this home page and any of the separate pages, may be copied, retransmitted, reposted, duplicated or otherwise used without the express written permission of Whiskey Creek Document Design .