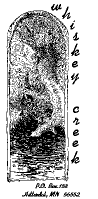 Backgrounders



About these Images:
These backgrounder images will not be cut out on our Plate 3, nor will they be mounted and sold by Whiskey Creek
Our plates will now come with sponge and with the nine images cut out -- except for these backgrounders. These have been used to fill the spaces between the images and to become "exclusives" for those who purchase our plates.
The cost of our Series 3 (third) plate is $30 and we pay priority mail!
---
---
Frequently Asked Questions (FAQ)
About Whiskey Creek Stamps (Home Page)
---
---
© Copyright 1996, 1997, 1998, 1999, 2000. Whiskey Creek Document Design. All rights reserved. No portion of this site, including all the text and images on this home page and any of the separate pages, may be copied, retransmitted, reposted, duplicated or otherwise used without the express written permission of Whiskey Creek Document Design .