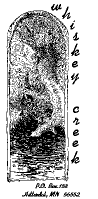 Double Lilac
category: botanicals
catalog number: 3-3-3-D
series number 3
size: 2.75 inches by 3.75 inches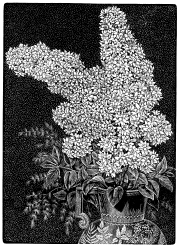 About this Image:
I send you blooms of Mr. Lemoines' double lilac Lemoineii. I received a package of these lilacs from Mr. Lemoines, of Nancy, France, on Feb. 25th, containing seven varieties of the double form....Any variety of lilac, after attaining sufficient age and size, may be brought into bloom almost at pleasure, in winter, in an ordinary sitting room where common houseplants do well....I was astonished, when in France last summer, to see the immense fields near Paris devoted to lilac culture. I presume many hundreds of acres were closely planted in these shrubs, for winter bloom in the Paris market.
From The Prairie Farmer, 1887.
price: $12.00
---
---
Frequently Asked Questions (FAQ)
About Whiskey Creek Stamps (Home Page)
---
---
© Copyright 1996, 1997, 1998, 1999, 2000. Whiskey Creek Document Design. All rights reserved. No portion of this site, including all the text and images on this home page and any of the separate pages, may be copied, retransmitted, reposted, duplicated or otherwise used without the express written permission of Whiskey Creek Document Design .