Whiskey Creek Stamps
Ophelia
I picked up some silk flower petals at a sidewalk sale last summer, something I would have normally walked right past, but they were actually giving these things away. The packages of petals appear to be layers of silk flowers you put together to make your own stems.
I've put a few petals together to make primitive flowers for various collages, but when I started to work with Ophelia on acetate, I remembered the lovely poem about violets and rue and knew these silk petals had to go with this card.
Ophelia was created from the image printed on overhead acetate, the same type I use in printing the Whiskey Creek Plate Sampler.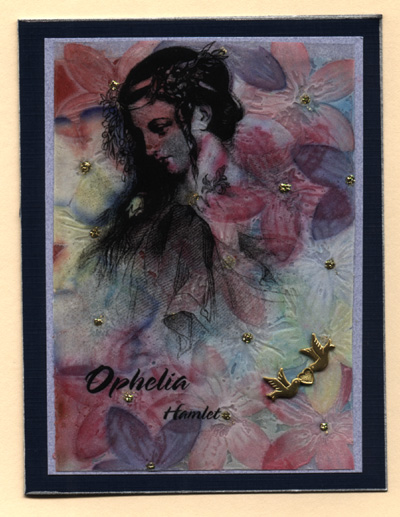 Materials
half a sheet of cardstock, folded to make a 4.25 inch x 5.5 inch card and a quarter of a sheet of a different color for layering
overhead projection film with image of Ophelia printed on it
a piece of cold laminate the size of a quarter sheet of card stock
Perfect Paste Adhesive
silk flower petals
PearlEx in pearl and gold
silver leafing pen
gold glitter glue
gold charm
Directions:
Remove the white paper from the back of the laminate and lay it sticky side up on your working surface.
Apply single silk flower petals to the adhesive on the laminate to suit your feel for color. They edges of the petals can overlap somewhat, but I would recommend avoiding a petal buildup that will create an uneven surface.
Dust any exposed laminate with gold Pearl Ex, filling in the uncovered holes.
Dribble about a tablespoon of Perfect Paste Adhesive over the flower petals, smear it around, and add pearl Pearl Ex, smothing everything together with your finger. Set aside to dry.
When dry, I applied dots of gold glitter glue to the centers of the flower petals to fill the hole for the wire to go through and let it dry.
When everything is dry, trim off any of the silk flower petals hanging over the edge of the laminate.
Using the glue of your choice, paste the acetate image of Ophelia (laserprinted side up) over the pearlized silk flower petals. Set aside to dry.
Glue the laminate and acetate image onto a piece of card stock. Trim and glue to the folded card.
The glue adhering the silk flower on laminate to the back of the Ophelia image tended to dissolve and disperse the glitter glue flower centers. Retouch the flower centers with more glitter glue.
Glue a gold charm in the lower right hand corner or an embellishment of your choice.
Outline the card edge with silver leafing pen.
---
---
About Whiskey Creek Stamps (Home Page)
---
---
© Copyright 1996, 1997, 1998, 1999, 2000 Whiskey Creek Document Design. All rights reserved. No portion of this site, including all the text and images on this home page and any of the separate pages, may be copied, retransmitted, reposted, duplicated or otherwise used without the express written permission of Whiskey Creek Document Design.