---
---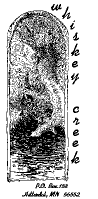 What Ever Happened to Series 3
Our advertisements in the current Rubber Stamper and Rubberstampmadness tell you Series 3 is now available, but if you have called to get your free copy, you know it's been delayed. The elves working here want you to know it's not their fault.
Committed to Free Catalogs
When I started Whiskey Creek stamps a little over 10 months ago, I was committed to the idea of a free catalog -- and I still am. As I continue to bring out new series of catalogs every time I produce new plates, I will send anyone who requests one a free catalog. All I ask is you tell me what series you need so I don't send you more than one of the same series. I track who I send catalogs to, but it saves me some time if you tell me what you need.
Over 1400 people have requested our catalog. These are new requests, not just sending subsequent series to regular customers. And this doesn't include the catalogs I've given away at stamp classes or demos. I have had a person from England call and ask for a catalog. Recently I had a call from Africa for a catalog. I think this is an overwhelming response and am very proud of it. I also feel it's a good sign that stampers are hungry for catalogs, and let's face it. No one is going to have all the catalogs they want when they have to pay for them.
I was so busy keeping up with catalog requests I was slowed down in getting my second plate out. When the current issue of these magazines came out, one very understanding person said "Please send me Series 3 if it's available. I know you have to place these ads months in advance." I wanted to kiss her feet!
Catalog Production Process
I produce these catalogs on a laser printer because the detail of the images are lost when they are photocopied. However, I don't want to gum up my laser printer any more than I have to, and printing on the backs of printed sheets is not something laser printers do without open rebellion.
At first I was running the backs of the sheets through my photocopier, but then my copier began spitting out black spiders of toner on the sheets, plus a bit of oil now and then. Not good. So I started schlepping the catalog sheets into a copy center to have the backs printed.
One copy center did the backs of several hundred copies, but for some reason, the paper then began jamming their copier. They now refuse to copy the backs for me. Another copy center is not doing the backs, but their equipment is often dirty and the copies come back with gray smudges on them.
Exploring My Options
First off, I don't consider commercial printing an option. The print bid for my Series 1 catalog was $1000 for a thousand copies. We are now into Series 2 and trying -- as you will read -- to get Series 3 out. If you do the math, this doesn't look good.
I tried a demo of a new digital copier because they are supposed to give clearer images than the old kind I had. The images were clearer, but still not good enough, and while the sales literature didn't say they were not made for copying both sides of a sheet of paper, it was clear that they were not. Before long -- about 50 copies long -- the machine revolted and I was getting black spiders all over the pages again, but at least no oil. This was progress.
I could clean the fusing roller of this copier, just like I could my laser printer, but the copier was cleverly designed to expose only about a quarter of an inch of the roller at a time. Covered with fused black toner, attacking the barely visible roller with alcohol and paper towels was a long, slow process. And anyway, I wasn't sure how long the fuser roller would last with constant alcohol baths.
After studying my options, I put in an order for -- the operative word here is ORDER -- a used copier that I can print from my computer with, one the spec sheet says will actually copy both sides of a piece of paper. These babies are not your usual home model. This is what your copy center uses to do "on-demand" printing.
Saga of the Used Copier
O.K. Back to the used part. This meant I had to wait for someone to get upgrade-itis and go for a newer model. This, I was told, could take a month or so. There just weren't that many out there.
Just before Christmas I got the good news that one had been located and it would be delivered to me on the 28th of December 1999 -- yes -- last year, the last millennium, for sure. I got up early and waited for my "Christmas present" to me. No show.
Called my sales rep. The machine was at a school which, of course, was closed that week, so the company handling the pickup and delivery couldn't produce the goods. O.K. next week, then, by now, of course, January 4th. Got up early once again. Once again, no show.
Called my sales rep. With some digging around, he discovered that the company had tried to pick the machine up from the school, but the school wouldn't let them take it. Huh? The case of the copier held hostage. Bizarre.
This time the sales rep gave himself some breathing room. It would now be delivered TWO weeks later. This made no sense because the company handling deliveries has a regular run, each week, past my house. It's a long run. This is the Buffalo Commons, you know.
The driver starts out in Minneapolis on Monday, drives west to Fargo, passing Barnesville, Minnesota on the way, and then goes deep into North Dakota, circling from Fargo north to Grand Forks, west to Minot, and down to Bismarck, back east to Jamestown (where the copier was), and back east to Fargo on Friday. He passes by my house again on the way back to Minneapolis (hereafter called "the Cities") for the weekend.
How do I know this? Because the same man has had this delivery route for years and delivered my first copier four years ago as well as the demo models I tried that didn't do the job. We know each other well. He often has a helper with him, but he's big, known as "Big Dave" by the trucking company. He never used a dolly to bring the machines up to the third floor, even the old big one. He had a helper to hold up the other end.
The sales rep told me the machine would definitely be delivered on Tuesday, by now January 25th, a full month after the promised date. I had hoped to get it in December because I know it's going to take me a while to learn how to get this machine hooked up to my computer and figure out how to make it do it's thing. My two new rubber plates have been at the vulcanizer for a week. At this rate, the rubber's going to be here before I get the copier, much less learn how to use it well enough to produce the Series 3 catalog on it.
O.K. January 25th dawns cold and clear here in Minnesota. The truck pulls up at 3:00 p.m. and a strange man gets out of it -- only ONE man. Where's my regular driver? When I answer the door I ask this strange man if he knows this machine is supposed to go on the third floor. "Yup," he says. I brought my dolly with the electronic stair crawler on it. " He asks to see the steps he has to take the equipment up to be sure his stair crawler dolly will handle it.
I show him the main stairway, and then the stairway to the third floor. "Oh, that stairway has a 90 degree turn in it. No way I can do this by myself." I ask demurely why they didn't send this machine on the truck with the usual driver, who usually has a second man with him. Silence. He has to call his office in Minneapolis and figure out what to do, but his intent, he says, it to take the machine back to the Cities.
"Now wait a minute. I've waited too long for this machine to have it this close and let you sashay off with it," I tell the man while he's on the phone with the trucking company in the Cities. "The customer wants me to put it in her front hallway," he reports. He gets the O.K. for that and says when he gets off the phone the regular driver, Big Dave, will stop by Friday on his swing back to the Cities and carry it up to the third floor.
First Floor Capture
There are three pieces to this machine, and one weights 300 pounds. The delivery man gets his electronic stair crawler and chews up my front porch steps with the grappling hook crawler thingy, buy hey, I've captured the machine at long last. As he brings in the 300-pounder, one caster falls off in the snow. I retrieve it as his stair crawler chews it's way up my porch steps yet another time. He even grapples and chews his way over the door thresholds.
He tips his dolly up and starts unbelting the 300-pound piece and I ask if he doesn't want to put the caster on first. "Oh, no. They can do that when they install it." I watch as he dumps the plastic box on the floor, the casterless corner landing whoppy jawed, bowing out the plastic side of the box menacingly.
Since a box of dead stamp blocks, the detritus from my stamp labeling fiasco, sits in the corner nearby, I ask if perhaps some wooden blocks under the corner might be nice. "Oh, sure, if you want to." I grabbed three, but he wasn't willing to give me time to get a fourth, which would have leveled the plastic box. At least the side wasn't bulging out in an explosion of plastic waiting to happen.
So Friday rolls around. I ask my sales rep if anyone has let the regular driver know if he's supposed to stop and haul this machine to my third floor and put it together. Well, he didn't know, but I could call the trucking company office and ask.
Before I can dial the trucking company, the copier company calls me and asks me to give them the number of copies on the machine. I tell the lady it's sitting in three pieces in my front hallway. "That's strange," she says. "The report says it was delivered and installation went well."
I managed to get a call through to the trucking company before someone else called. Well, no, they hadn't asked the regular driver to stop by. So I suggest perhaps they call him and let him know. "Oh, we can't get hold of him. There's too many dead spaces for the cellular phone to work." I'm nearing explosion mode here. Since this was Friday about lunchtime, I knew this man was not in western North Dakota, but probably even as we spoke, cruising by Barnesville where the cellular phones work fine.
"We'll just schedule the regular driver to come by on next Tuesday, February 1, and install the machine." Since I had gotten up early more days than I cared to count, I told the woman it would have to be in the afternoon. There was silence on the other end. I repeated, they had better not show up in the morning. "Well, I guess I can make a note of that," she said, obviously nonplussed.
Any bets on whether the machine makes it to the third floor on February 1st?
Any bets on when you all will be seeing Whiskey Creeks Series 3 catalog?
---
---
About Whiskey Creek Stamps (Home Page)
---
---
© Copyright 1996, 1997, 1998, 1999, 2000 Whiskey Creek Document Design. All rights reserved. No portion of this site, including all the text and images on this home page and any of the separate pages, may be copied, retransmitted, reposted, duplicated or otherwise used without the express written permission of Whiskey Creek Document Design.