HTML for Dummies
Quick Reference
by Deborah S. Ray and Eric J. Ray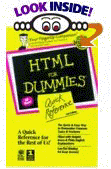 When I was first trying to learn HTML coding, I downloaded a lot of those handy free lists from the various recommended web sites for beginners, but all I had was a stack of papers listing possible markers, sometimes with the briefest of explanations, and almost never the context.
The beauty of Deborah Ray's and Eric Ray's Quick Reference is its brevity, neatly organized in a way human beings can actually find the markers they are looking for because they are grouped logically. And with the various cats of the Rays serving as models for the sample pages, what more could a novice struggling with marking up a page for the web ask for?
Written, designed, and produced by a technical writer who knows the art of putting together information for ease of reading and understanding (aided by her husband who owns and moderates the TECHWR-L list), we have a book produced by someone with the ideal array of skills for top-notch technical communication. This book was created by someone who knows the art of communication, document design, rhetoric, or whatever you care to call it, who has presented the nuts and bolts very well.
As a document designer, I am always contending with the technical experts, the illustrious subject matter experts so warmly called SME's, who think that because it IS, everyone worth talking to already understands the unfathomable. It's a real treat to see what someone who's primary skill is communication can do with boring technical stuff.
That personal prejudice brazenly exposed, I can now go on to caution you that this is a quick reference. You won't find the technical explanations here about how or why the web is a great place to be or how what kind of modem connection aspiring techies should have to genuinely deserve the moniker "webmeister." But if you've thrown up your hands in frustration with the supposed WYSIWYG page editors, this is the book for you.
HTML tags logically presented without the lead (the 800-page barge genre).
Did I mention this handly little quick reference of 200 pages with a lay-flat spiral binding can be held in only one hand while you work the keyboard with the other?
Or that is costs so little you can even afford your own personal copy?
Need I say more?

---
---
Books Reviews About Brain-Mind Connection
Back to Whiskey Creek Document Design's Home Page
---
---
© Copyright 1996-2003 Whiskey Creek Document Design. All rights reserved