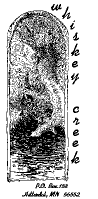 Whiskey Creek Stamps
Acetate Gallery
When you're new to stamping, it's hard to decide what to try first and of course, it's a bit difficult to avoid buying one of everything. But eventually we all find the medium we like best. It's taken me a while, but I have discovered that acetate is what I love to play with.
When I say acetate, I'm really talking about anything that comes in clear plastic sheets you can stamp on and then decorate. I find this material lends itself well to a number of things that appeal to my collage mind. I've used cold laminate -- the sheets of clear plastic with a white paper on the back which can be peeled off, leaving a sticky surface to adhere things to. There are a number of brands, some costing more than others. Some stampers prefer clear contact paper for these kinds of projects. Then there's the clear plastic that is run through copier machines to make overheads, those slides projected on the wall for keeping you focused on whatever the speaker is droning on about.
With both kinds of material, stampers generally use permanent ink and stamp the image on the top side. If they are using cold laminate, they can color the image and then remove the white paper backing and adhere all kinds of things to the sticky side to create interesting collages or backgrounds for cards. I've also found that the overhead projector acetate you can run through your printer is wonderful stuff to print out stamp images on and work with as if it were cold laminate. This material is so much fun to work with I even offer a Whiskey Creek Plate Sampler so you can test run my stamp images. So, on to the gallery and the samples of Whiskey Creek Stamps on acetate!
Sarah Fishburn-Gerety has created some absolutely gorgeous postcards with Whiskey Creek's new acetate images, stamps, and Alphabet Solitaire.

Karyn Collins has used our Male Angel stamped on acetate to create an eye-catching project card for the demonstrator packet for Elderberry Knoll.

Fran Saperstein has used several of our stamps on acetate for her Juno with Peacock. Fran is the designer and owner of Elegant Notion and makes handcrafted greeting cards and invitations. To see more of her art work, check out her Flowering Dogwood collage.

Kathy Kinnaman has used five Whiskey Creek images to create wonderful cards. Kathy will give you the impression that she's really not that great a stamper, but let me tell you, the secret is out of the bag! This lady can stand shoulder-to-shoulder with the best of them. Kathy created wonderful cards out of four of the acetate images from Whiskey Creek's Plate 5: Juno with Peacock, Trio of Naturalists, Railroad Bridge, Male Angel. Plus one of Shakespeare's women, Ophelia, also on acetate.
In the Whiskey Creek catalog review in the November issue of Vamp Stamp News, I mentioned that I was working on bringing a set of Shakespeare's women out in acetate. These are now ready to ship!
---
---
About Whiskey Creek Stamps (Home Page)
---
---
© Copyright 1996, 1997, 1998, 1999, 2000, 2001. Whiskey Creek Document Design. All rights reserved. No portion of this site, including all the text and images on this home page and any of the separate pages, may be copied, retransmitted, reposted, duplicated or otherwise used without the express written permission of Whiskey Creek Document Design .