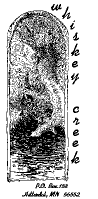 Online Catalog
Before you start browsing the Whiskey Creek online catalog, we want you to know that we no longer sell mounted stamps. Only individual stamps as unmounteds, and of course, our plates. There are many pages to this catalog, and you will find the mounted price listed for the stamps. The unmounted price for all of our stamps are half the mounted price plus $1. That means if you see a stamp listed as mounted and selling for $12, the unmounted price will be $6 plus $1, for a total of $7.
Please also note that our unmounted stamps come with adhesive-backed sponge already attached. This is not the often sought after red sponge, but it is professional grade sponge, very firm, and makes a wonderful cushion of unmounted stamps. It's actually firmer than the red sponge. Trust me.
Also important for you to know is that these unmounteds are cut out by hand with a scroll saw. There are no jaggies around the edges to catch ink and smudge up your stamped image.
Our plates -- which are a generous 8 inches by 11 inches -- are what we call "peel and play." To our knowledge, we are the only stamp company which sells their plates with adhesive backed sponge and with the images already cut out for you. In truth, you really don't have to mount them on anything.
You can literally peel the surrounding rubber away from our images and begin to stamp! Brayer on the your dye ink and go for it! Read about this new easy way to stamp in Mounted vs Unmounted.
But there's more. With our second plate, we introduced backgrounders. These are several small images which we have on the plates that are not cut out and will not be mounted and sold as individual Whiskey Creek stamps. These are special stamps just for those who buy our plates.
So, we think if you so your math, you will find Whiskey Creek plates one of the best bargains around. No rubber to buy. No adhesive to buy. And we pay Priority Postage.
Series 1
Series 1 consists of Plate 1, our first, and contains nine images. This was our first plate and we still have some bare rubber ones for the real die-hards that want to glue on their own sponge. However, if you prefer the "peel and play" version, let us know. We'll let you have the easy version. This plate is $30 and includes Priority postage.
Series 2
Series 2 consists of Plate 2 and again contains nine images. All these plates are "peel and play." Sorry. No naked rubber for those who like to really get their hands sticky with preparing unmounteds for stamping.
However, with Plate 2 Whiskey Creek introduced backgrounders, several small images which are not cut out and will not be sold. The only way to get these stamps is to buy Whiskey Creek plates. Plate 2 is $30 and includes Priority postate.
Series 3
With Series 3, Whiskey Creek brought out two plates, Plate 3 and Plate 4.
Plate 3 consists of nine images again, "peel and play," and contains our signature backgrounders. Like our other plates, this one is $30 and includes Priority mail.
Plate 4 is a bit different than our others. Still "peel and play," Plate 4 has only two images, both exquisite 5 inch by 7 inch frames. With this plate, both the outside and the inside edges of these frames are cut out. The backgrounders for each frame are on the inside panel which is easily removed so you can cut out these smaller decorative images. This plate is $32 (we paid $1 per frame to have the inside panel cut out) and includes Priority mail.
Series 4
Series 4 consists of Plate 5 and again, contains nine images. This is our signature "peel and play," and contains three uncut backgrounders. Like our other plates, this one is $30 and includes Priority mail.
---
---
Frequently Asked Questions (FAQ)
About Whiskey Creek Stamps (Home Page)
---
---
© Copyright 1996-2003 Whiskey Creek Document Design. All rights reserved. No portion of this site, including all the text and images on this home page and any of the separate pages, may be copied, retransmitted, reposted, duplicated or otherwise used without the express written permission of Whiskey Creek Document Design.