Whiskey Creek Stamps
Ten-Item Playing Card Swap
Katherine Sullivan hosted a playing card swap that was kind of unusual. We were divided into groups of ten, and each group member sent ten items, all alike, to Katherine and she distributed the ten items, one each, to our ten group members.
Each of us in the group, then, made a collage, all with the same items. This was a card sized collage, so we made the collage and reduced it to the card size on a color photocopier and sent color photocopies to be exchanged with the other ten in our group.
The element I contributed to the group was the Whiskey Creek Georgraphy Game stamp, stamped on shrink plastic, trimmed with the Fiskars stamp scissors, and colored with Fabrico markers. Oh, and edged with gold with my trusty Pilot leafing pen which you see in so many of my projects!
There's been a lot of talk about serendipity stamps, but those of us making collages have been doing this sort of thing all along!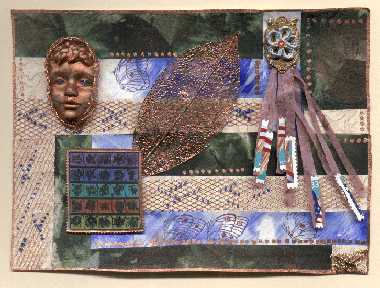 ---
---
About Whiskey Creek Stamps (Home Page)
---
---
© Copyright 1996, 1997, 1998, 1999, 2000 Whiskey Creek Document Design. All rights reserved. No portion of this site, including all the text and images on this home page and any of the separate pages, may be copied, retransmitted, reposted, duplicated or otherwise used without the express written permission of Whiskey Creek Document Design.