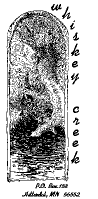 Fruits of Summer
Another of our favorite stamps interpreted in a wonderful variety of ways, from formally elegant to earthy images and colors topped off with a glittered paper.
Debora Gribbon
Lou Ann Leonard
Lou Ann colored both these images with Radiant Pearls over colored pencils. The background marble stamp is JudiKins.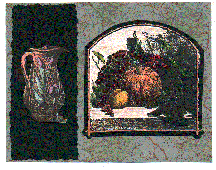 Barbara Frigillana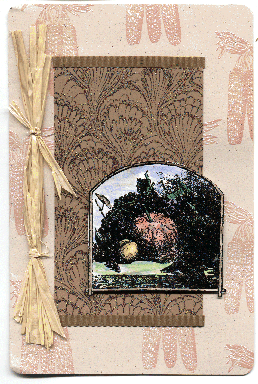 If you are interested in the details about this stamp, please see our catalog page for Fruits of Summer.
---
---
About Whiskey Creek Stamps (Home Page)
---
---
© Copyright 1996, 1997, 1998, 1999, 2000. Whiskey Creek Document Design. All rights reserved. No portion of this site, including all the text and images on this home page and any of the separate pages, may be copied, retransmitted, reposted, duplicated or otherwise used without the express written permission of Whiskey Creek Document Design .