Whiskey Creek Stamps
Male Angel
Karyn Collins of Elderberry Knoll has incorporated Whiskey Creek's Male Angel into a project for Elderberry Knoll's Creative Arts Demonstrators. She has been kind enough to let me post her instructions for the project here along with her card sample from the Demonstrator kit.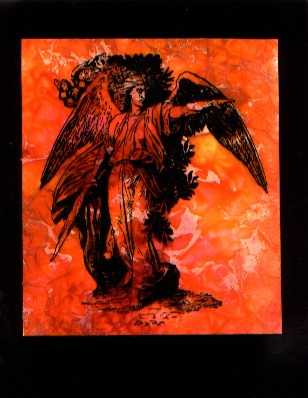 Project #61
Acetate Angel
Designed By: Elderberry Knoll
What's Needed
Stamps
Male Angel (451D) - from Whisky Creek
Materials
Decor-it Permanent Ink Kit -- black (RDIK53)
Vivid Re-Inkers: peach (VRB31), raspberry (VRB25), straw (VRB58)
1 sheet of Transparency Film (ETF01) - cut to 4-1/4" x 5"
1 sheet of Bristol cardstock -- white: cut to 3-1/2" x 4"
1 sheet of Glossy Black Cardstock (CGC01BK) cut to 8-1/2" x 5-1/2" and folded to 4-1/4" x 5-1/2"
Pearl-Ex: Interference Gold (JPEX674S)
3-D Crystal Laquer (3D1802)
white tissue paper
scissors
Ranger Heat-it Craft Tool (RAHT) [optional]
Marvy Magic Clearner (MC78)
ruler (CTMR12, CTMR18), x-acto knife (HX1), cutting mat (CM1218B)
Gloss Perfect Paper Adhesive (USPPAG) and glue brush, Tombow glue stick (GT103)
How to Do It
1. Stamp Male Angel on acetate (transparency film) with Decor-it black.
2. Remove ink from stamp with Marvy Magic Cleaner.
3. Place acetate stamped side down on work surface.
4. Cut a piece of tissue paper slightly larger than the piece of acetate. Crinkle it up really well then un-crinkle it. Do not smooth it out. Leave the crinkles and crevices in the paper. NOTE: this next part is messy. Be sure to cover the work surface with scrap paper.
5. Place several drops of Crystal Laquer on the acetate. 2-3 large drops (dime-nickel sized) and several smaller ones.
6. In the middle of each drop of Crystal Laquer place one drop of one color of re-inker. Space the colors out across the piece (e.g., don't put all of one color in one area).
7. Use your finger to gently move the glaze/ink over the whole piece. Take care not to mix the colors up too much or they will start to look muddy.
8. Lightly sprinkle a little of the pearl-ex over the top of the colored glaze.
9. Lay the tissue paper on top of the glaze/pearl-ex and gently pat with your fingers until the tissue is saturated with glaze.
10. Allow to air dry or speed drying with a heat tool.
11. Trim edges so that the piece measures 3-1/2" x 4". Save scraps to use as embellishments.
12. Adhere to the white cardstock.
13. To make stamped image darker/more vibrant, cover the front of the piece with 1-2 coats of gloss Perfect Paper Adhesive. Allow to dry.
14. Adhere bristol backed acetate piece to the front of the black card.
WOWs* from the Rubber Stamp Wizard:
The most important thing to remember is that these instructions are only a guide, a starting off point. Have fun and experiment. Remember too: in art there are no mistakes, only creative opportunities!
* Words of Wisdom
---
---
About Whiskey Creek Stamps (Home Page)
---
---
© Copyright 1996, 1997, 1998, 1999, 2000 Whiskey Creek Document Design. All rights reserved. No portion of this site, including all the text and images on this home page and any of the separate pages, may be copied, retransmitted, reposted, duplicated or otherwise used without the express written permission of Whiskey Creek Document Design.