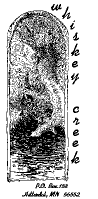 Broom
Janice Bryant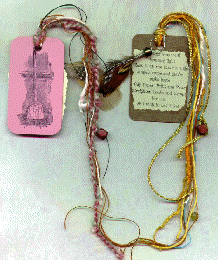 Janice used samples of laminate, those color chips for choosing the color of your countertops, and stamped them on the colored side with Memories ink.
Then she printed and attached the charm on the back side of the laminate and notes that "these charms will WORK -- at least MY workroom is clean!"
Sigh. I wish keeping MY workroom clean were that easy!
If you are interested in the details about this stamp, please see our catalog page for Broom.
---
---
About Whiskey Creek Stamps (Home Page)
---
---
© Copyright 1996, 1997, 1998, 1999, 2000. Whiskey Creek Document Design. All rights reserved. No portion of this site, including all the text and images on this home page and any of the separate pages, may be copied, retransmitted, reposted, duplicated or otherwise used without the express written permission of Whiskey Creek Document Design .