Whiskey Creek Stamps
Katherine
The image of Katherine from Shakespeare's Taming of the Shrew was, well, let's face it, very dark. Really dark. I kept trying to figure out how to make the folds in her dress show up when it was so black.
Gildenglitz to the rescue! Katerhine was created from the image printed on overhead acetate, the same type I use in printing the Whiskey Creek Plate Sampler.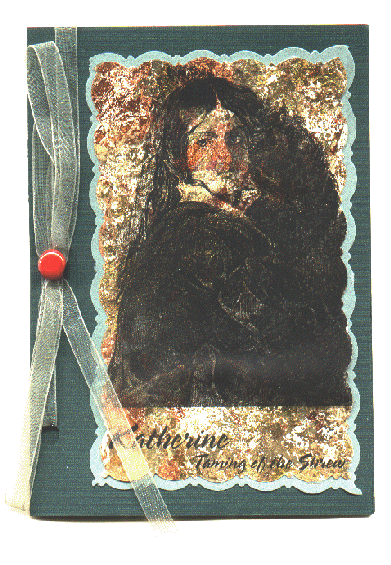 Materials
half a sheet of forest green cardstock, folded to make a 4.25 inch x 5.5 inch card and a quarter of a sheet of off white and a quarter sheet of sage green cardstock for layering
overhead projection film with image of Katherine printed on it
Duo glue
Gildenglitz
Fiskars scissors, seagull pattern
single-hole, round paper punch
Bond 527 glue
Yes glue
quarter-inch sage green ribbon
decorative bead
Directions:
On the back of the acetate image of Kathering, spread a thin layer of Duo glue and then press Gildenglitz onto the glue. When the glue is dry, brush off the extra pieces of Gildenglitz and burnish the surface with a plastic mesh scrubber, taking a bit more of the gold off than you might normally so the white background stock can show through a bit.
Glue the acetate to the off-white cardstock with Yes glue. This allows a little bit of the white to show through the Gildenglitz and lighten the image. When dry, cut the layered acetate into a rectangle with Fiskars decorative edge scissors.
Glue the layered acetate image onto the sage green cardstock with Yes glue. When dry, cut the sage cardstock with the Fiskars scissors, matching the edge cut, and leaving 1/8th of an inch of the sage paper exposed.
When dry, glue the layered acetate and sage paper to the forest green card, leaving a wider border on the left, folded edge. Using the round single hole punch, cut a hole at each end of the fold border and thread ribbon through the hole and tie in a bow.
Glue a bead in the center of the bow with Bond 527.
---
---
About Whiskey Creek Stamps (Home Page)
---
---
© Copyright 1996, 1997, 1998, 1999, 2000 Whiskey Creek Document Design. All rights reserved. No portion of this site, including all the text and images on this home page and any of the separate pages, may be copied, retransmitted, reposted, duplicated or otherwise used without the express written permission of Whiskey Creek Document Design.